If you go off road at all, and if you like your vehicle, then you want mud flaps. While the aesthetic of flaps is contested, their ability to protect the paint along the rocker panels from rock chips and subsequent paint chips is not.
With our Toyota Tacoma, sure, there are factory mud flaps but they have a few fundamental problems. First, they are really, really stiff.
This may not sound like much of a problem but a stiff mud flap is more prone to damage, particularly if you drive over an obstacle and even more so if you drive over an something and then have to go backwards over that same obstacle. Because they are so stiff, they tend to crack, or worse, tear themselves from the inner fender of the vehicle.
The second problem may not be a problem depending on where you live. But they have a raised lip around the perimeter of the flap. This works perfectly of holding snow and slush.
Finally, depending on tire choice, the OEM mud flaps are pretty narrow, allowing rocks, mud and debris to get around the outside of the tire.
While their are a myriad of alternatives, when it comes to our Tacoma, there are two aftermarket mud flaps that tend to be the most popular. RokBlokz and RekGen.
---
Rek Gen Mud Flaps
Near as we call tell, Rek Gen is based out of California and has been making off road products since the early 2000's. For the Tacoma, they offer two sizes in the choice of seven colors. They also have more decorative designs with grids or American flags. We ordered a pair of "Stock" in black for $98.00.
Shipping was quick, and they were well packaged. The flaps themselves are pretty substantial and rather stiff, with out a lot of flex. The hardware comes in two bags labeled front and back.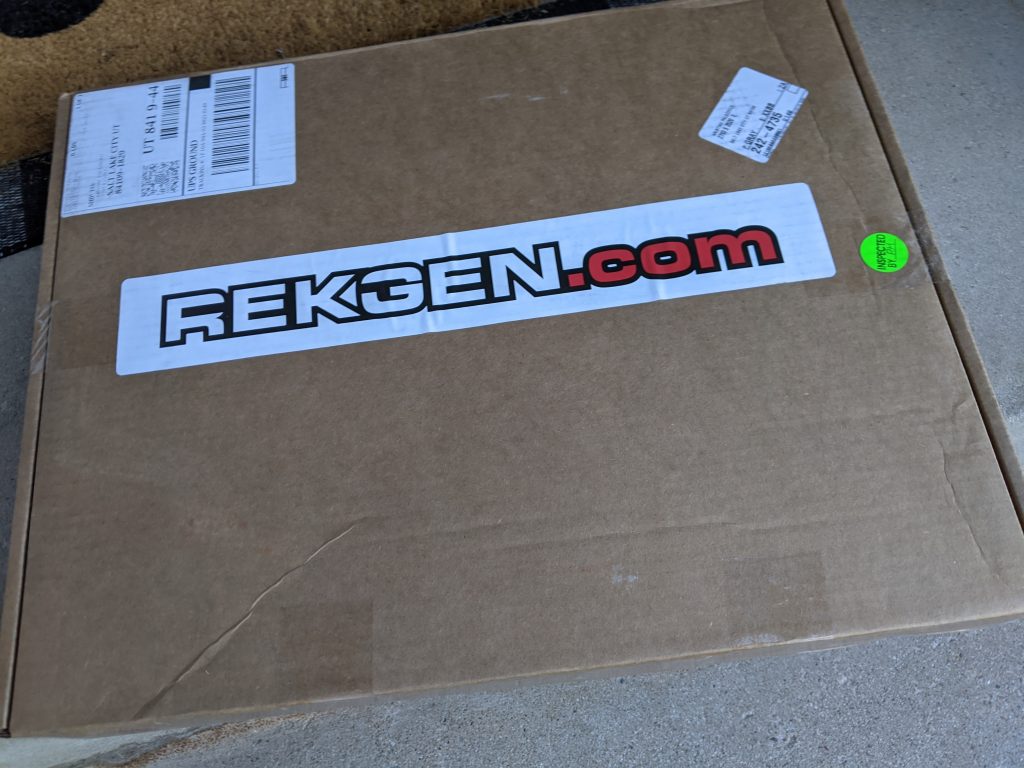 The screws and fender washers are all black, but the heads of the screws are a slotted hexagon head with sharp raised edges. Immediately this raised a bit of concern because if a tire were to touch the head, it could potentially snag or tear at the rubber. The other worry is that the "spacers" are just scraps of fuel line. I suppose that'll work, but it's not like these were cheap.
When it came to install them, it's a good thing mud flaps are pretty simple. If you have two left hands, anybody should still be able to figure it out. Rek Gen doesn't offer much in the way of help as the instructions are cryptic with very vague images leaving the user to basically figuring it out. But then we noticed things weren't lining up. Hardware was mixed up, leaving us to guess if we were putting spacers and screws in the correct place. And when wall was said and done, there were sizable gaps between the mud flap and the fender well. Again, for $100, this was disappointing.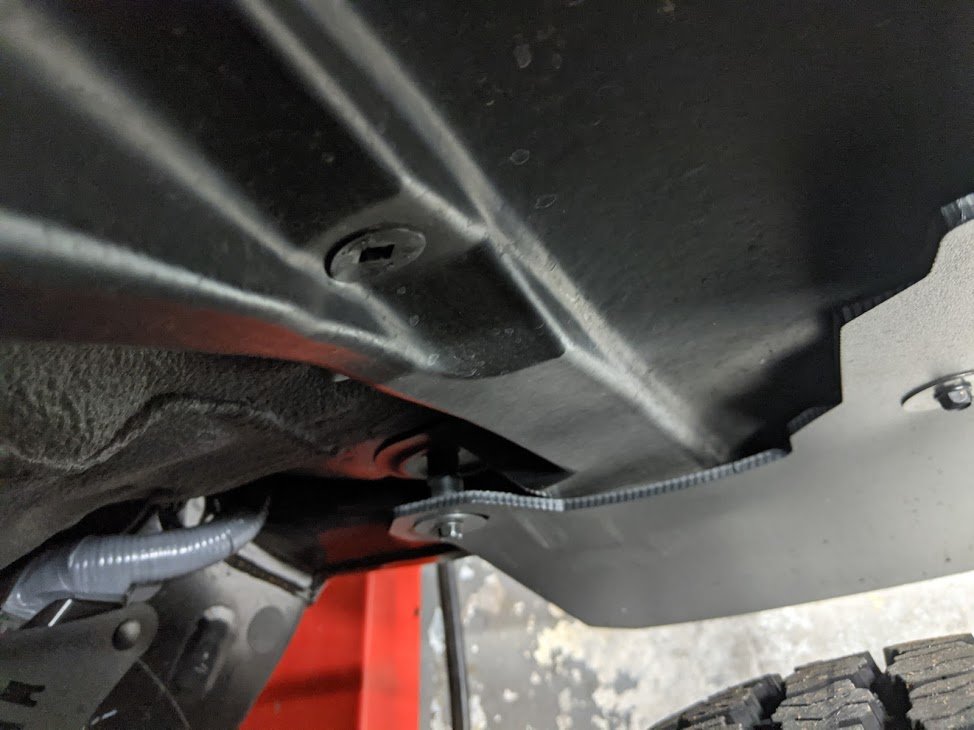 The flaps have slotted holes allowing the user to slide the flaps inboard or outboard to fit the needs and when all was said and done, they did look pretty good.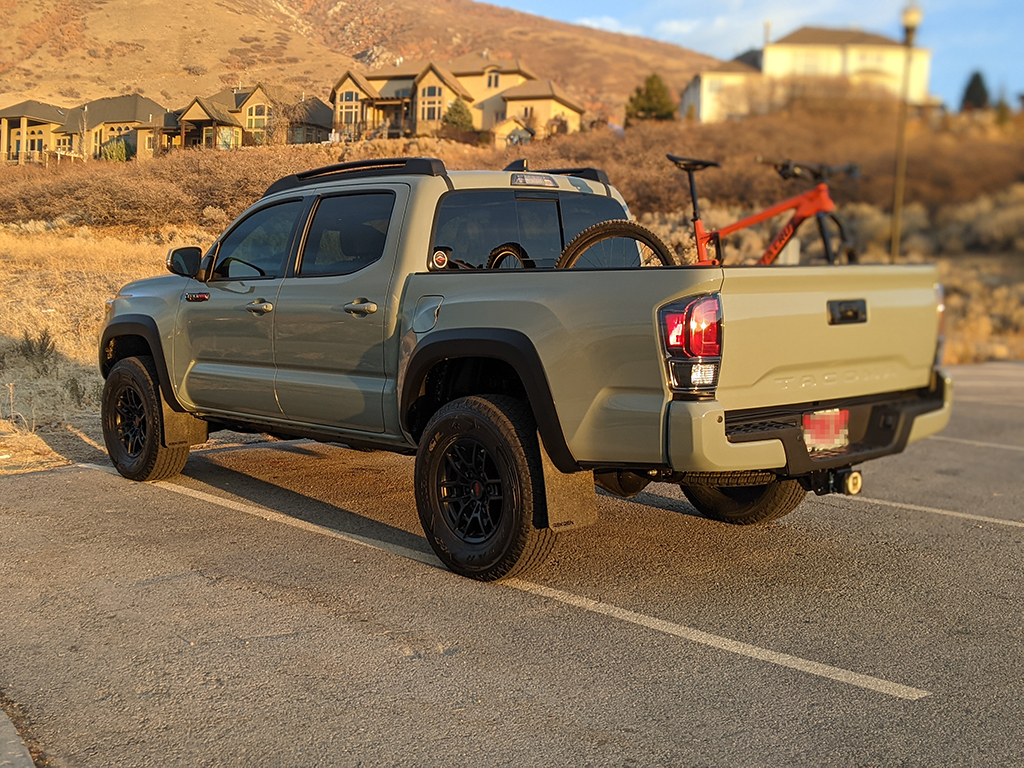 As soon as I backed out of the driveway, there was one glaring problem. Even with our brand new, bone stock Tacoma (albeit the wheels we have do have additional offset) the tire rubbed on the mud flap as we backed out of the driveway. Not the end of the world, but again, for $100, this was disappointing.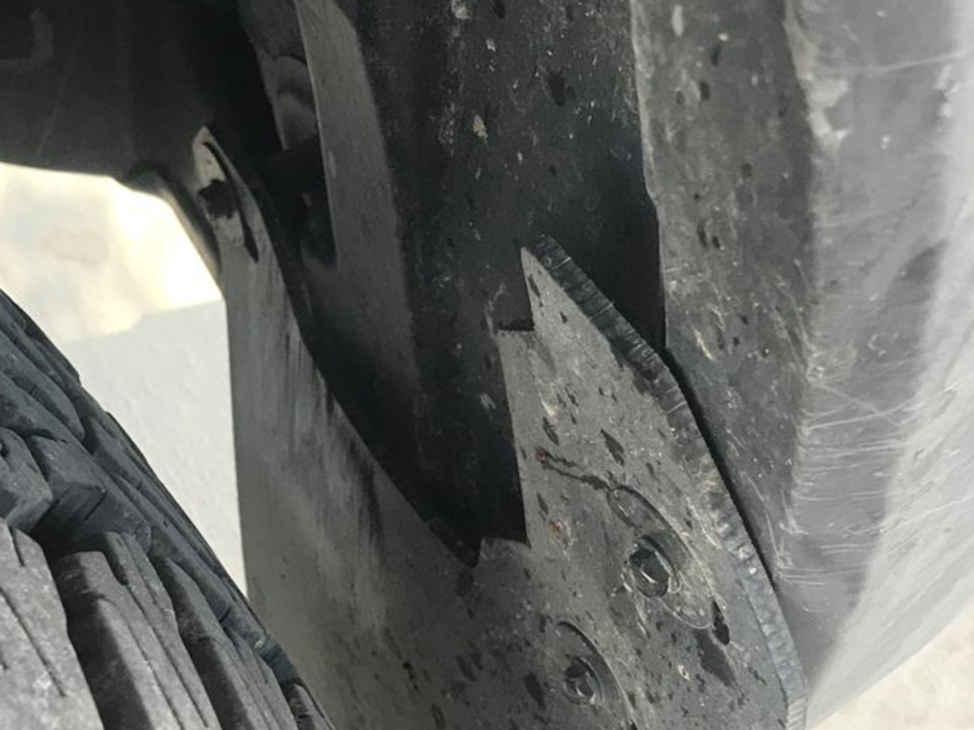 All in all, I was left feeling like there wasn't a lot of value here. Sub standard hardware, sub standard instructions, they were stiffer than I would have liked and worst of all, sub-par fit. If the cost was half of what we paid, I'd probably be a lot less critical, but these are marketed as a premium product. There are several alternatives on Amazon for less than $50 that would perform as well, if not better, than these.
---
RokBlokz Rally Mud Flaps
RokBlokz is a small, family run business based out of Utah (just like us). They got started focusing on Subaru's, but make flaps for just about any off-road vehicle out there. For our Tacoma, you also have the choice between Original and XL in ten different colors. We went with "Original" in black at $149.
So, yeah. These are a fair bit more expensive than the Rek Gen's. 30% more. Are they 30% better? In short. Yes. If you are on the fence between these two products you can stop reading now, order up a set of RokBlokz and call it day.
Shipping was fast, but packaging wasn't as fancy. The flaps were wrapped in cellophane and taped into folded cardboard, not an actual box. But from there everything got better. Right off the bat, you can tell that while still substantial, the material of the RokBlokz offers a bit more flexibility. The instructions are quite good and the hardware is all stainless. But two additional features really make these stand out.
First, if you get the Original, like we did, the flaps are marked so you can cut away some material to get the flap to sit more flush against the fender. This is to accommodate a slightly larger wheel without any rubbing. We cut out the extra material right off the bat.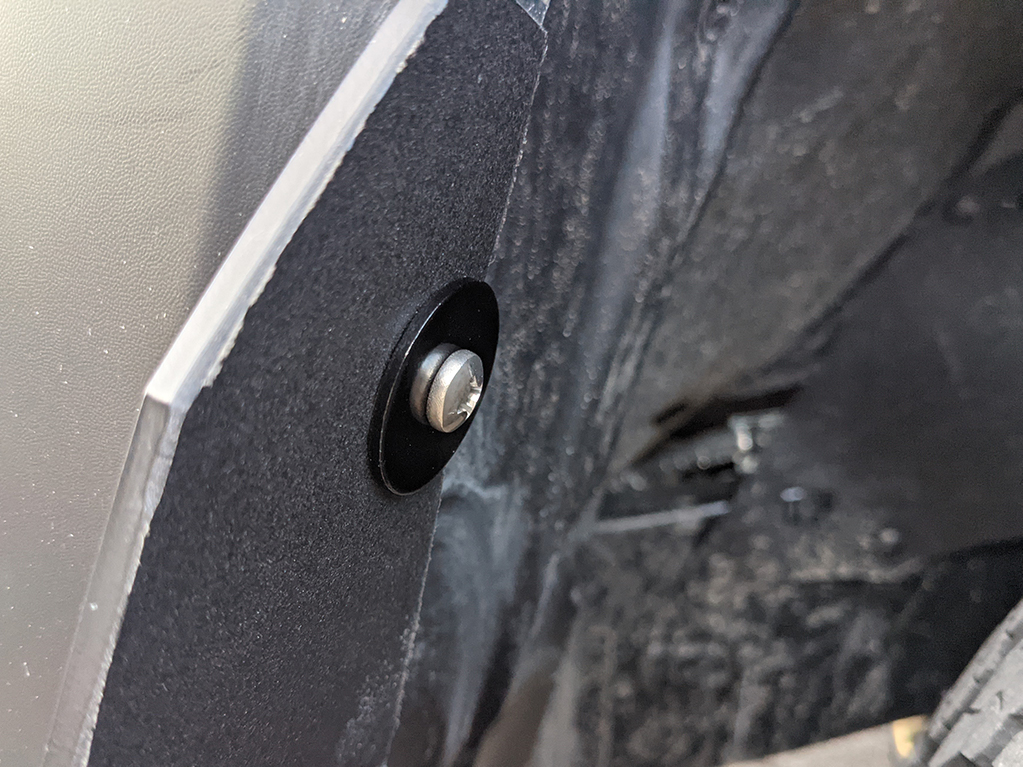 Secondly, all the spacers were actual spacers, not fuel line. And instead of just bitey-headed screws, the kit uses all stainless, smooth head screws, stainless steel brackets and well-nuts that affix the bottom of the front mud flaps directly into the frame of the truck. This is, clearly, a much better method. First, for allowing for more clearance and second for more mud flap stability.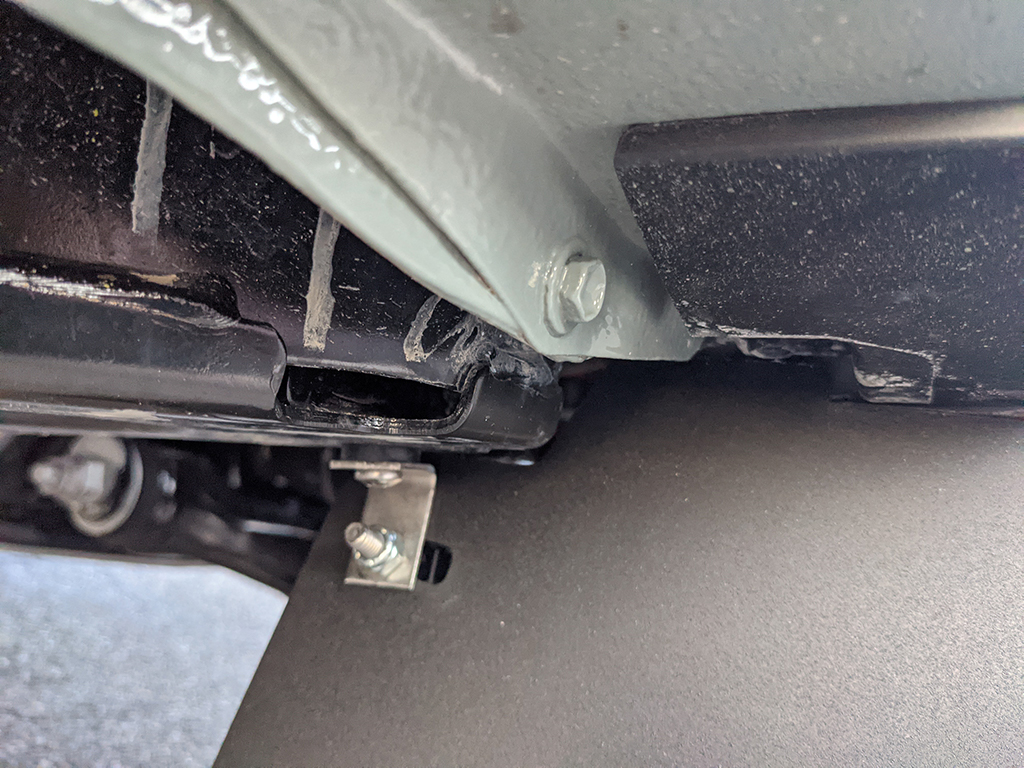 Because the instructions were so much better, installation was even easier, with much less fiddling to get everything to line up. If you are particular, like I am, a little fiddling to line up the notch immediately with shape of the fender well resulted in virtually no gap between the mud flap and the bottom of the fender well.
The shape of the RokBlokz is also better. Rear mud-flaps are easy, but the front flap should offer more coverage because the front wheels, well, turn side-to-side. The RokBlokz are shaped better to accomodate this. Lets be honest. The only reason to run mud-flaps is for protection. So, what good is a mud flap that doesn't adequately protect?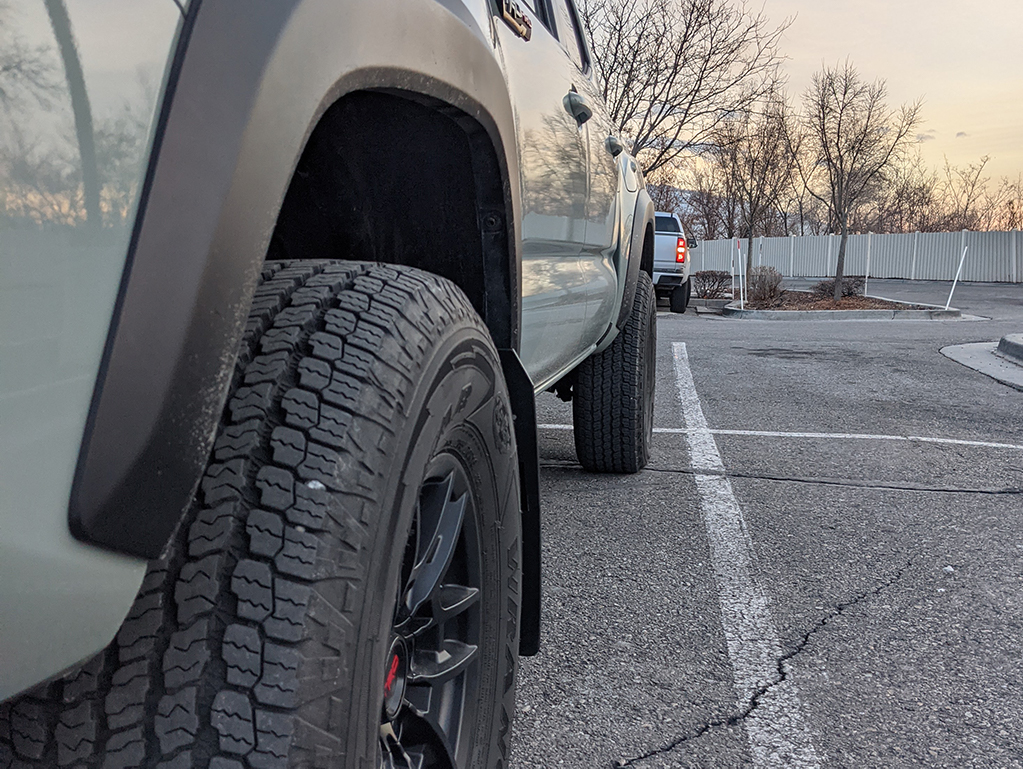 The only confusing this is, on their website, they say the flaps won't fit on a TRD Off Road, Pro (etc.,) with a side exhaust . We're not sure why that would be the case as they fit perfectly fine on our 2021.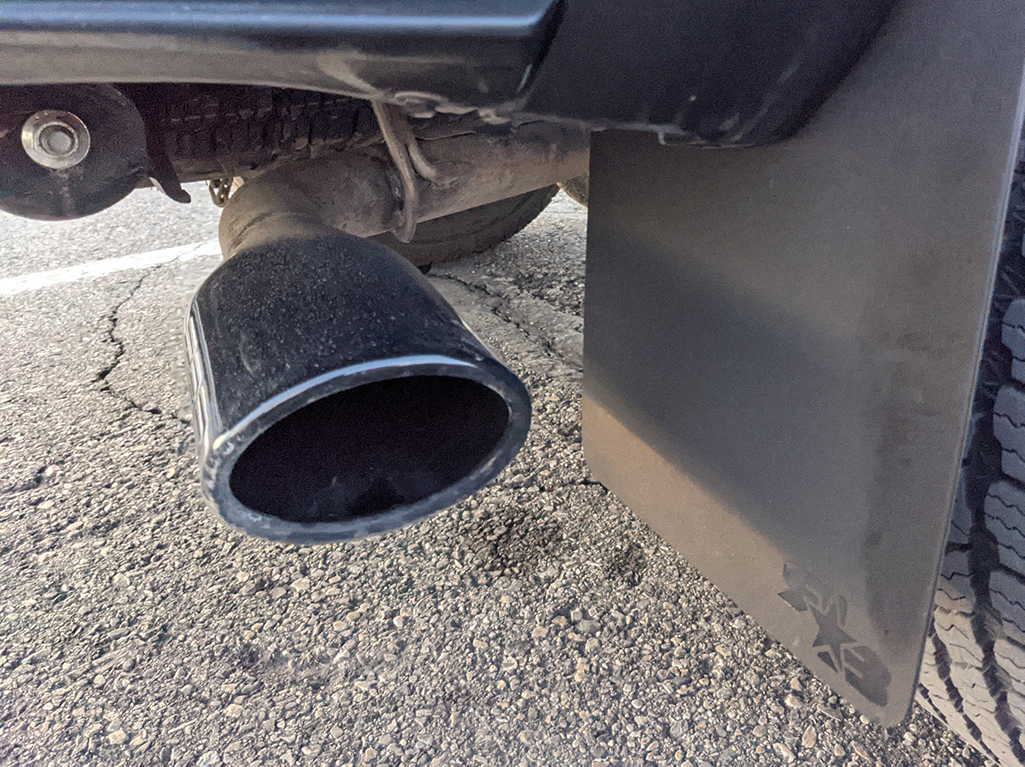 I reached out to RokBlokz to inquire about this and they said they had one customer complain that after a long drive on a very hot day, they had some slight discoloration on the mud-flap.
So, in the end, while both of these products are kinda' expensive for what they are, I have to say that the RokBlokz do offer more value. The materail is better, fit is better, the mounting hardware (and methodology) is better, the protection is better and best of all, no more grinding/rubbing noises when I back out of my driveway.
---